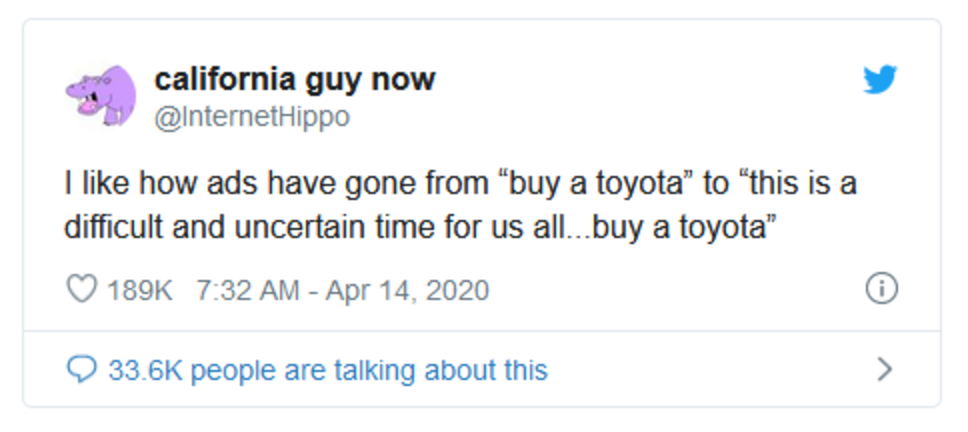 Interesting News - Week of April 27, 2020
Interesting News from the Week of April 27, 2020
Posted By:
Stephen D. Forman
|
Categories:
Medicaid & Medicaid Planning, Medicare, Research & Reports, Government & Public Policy, US Economy, Industry Trends & Forecasts, Case Studies, Miscellaneous Op-Ed, Terminology & Language, LTC Awareness
The first story here has a term you will you not soon forget.   The last one will leave you vexed and a bit angry...hint...it's also a disaster. 
It's Called "Disastertising": You made me smile @InternetHippo, but we all have to make a living. It's not easy threading the needle: brands fear pausing their advertising; neither do they want to come across as tone deaf or cynical. When consumers were asked which kind of messaging they most want to hear during the pandemic, by far the most popular choice was...
Risk = Hazard + Outrage: May is Disability Awareness Month, but DI carriers are already reporting "extremely strong" sales. Life insurance sales are seeing the same phenomenon, with COVID-19 the catalyst. Peter Sandman says people measure a risk by how much harm it's likely to cause ("hazard") plus how upset it's likely to make them ("outrage"). During times of crisis, our job is to help [appropriately] upset people cope with serious risks with a message of, "We'll get through this together."
Age Old Scapegoat: For three weeks we've talked here about how LTC facilities are "ground zero" for the nation's coronavirus pandemic. So how come they're not getting the money, not getting the equipment, and find themselves begging "the country to rally around our nursing homes and assisted living communities the same way the public health sector has around hospitals"?