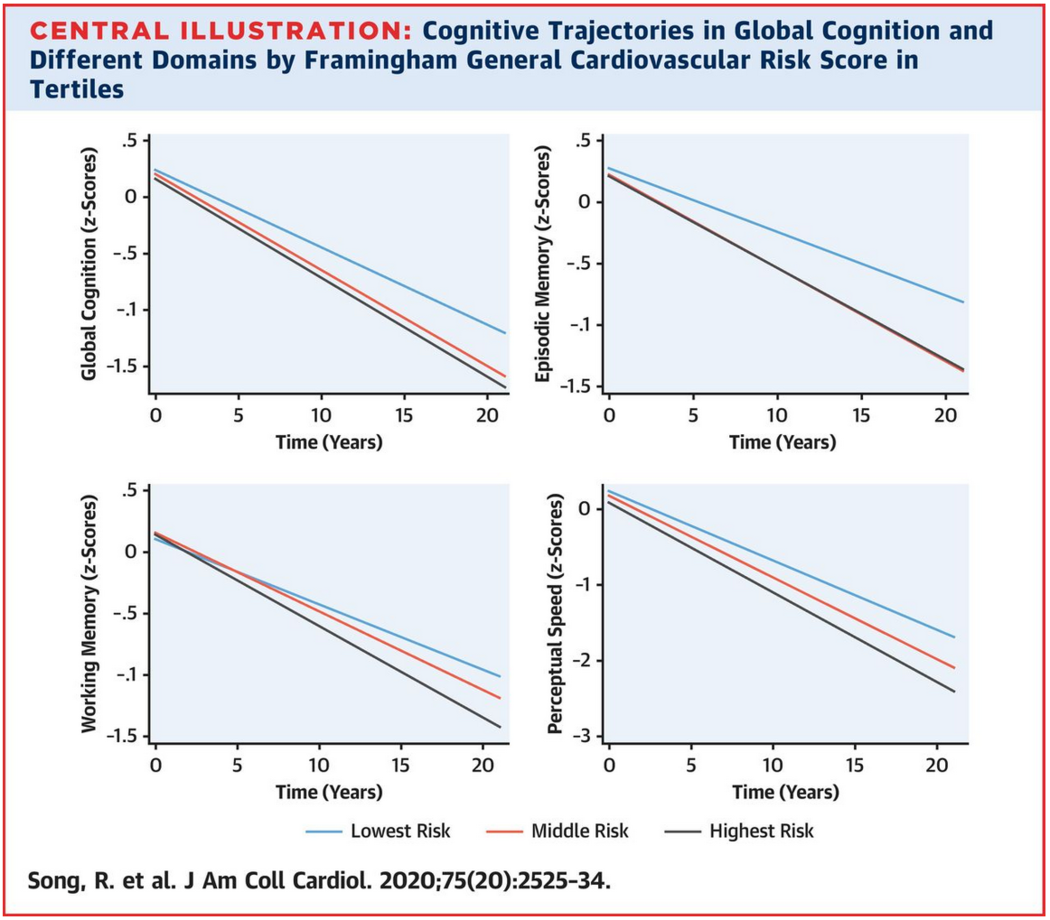 Long Term Care News - Week of May 25, 2020
Long Term Care News - Week of May 25, 2020
Posted By:
Stephen D. Forman
|
Categories:
Medicare, Research & Reports, Government & Public Policy, US Economy, Industry Trends & Forecasts, Case Studies, Miscellaneous Op-Ed, Insurance Professionals & Financial Advisors
Hack your brain to feel good.  Or just let that Social Security COLA, only the 4th in the past 45 years, do the trick.  Always good stuff here. 
Heartfelt Advice: A two-decade study found that higher cardiovascular risk burden may predict decline in "episodic memory, working memory, and perceptual speed, and is associated with neurodegeneration and vascular lesions in the brain." As you see in the chart above, in each cognitive domain those with higher CV risk factors declined more precipitously over time.
Hugs on Drugs: You've heard of oxytocin, the "love hormone" that gives you warm and fuzzy feelings, but did you know you can hack your brain to release more of it? This psychologist from Scientific American takes a closer look...
Sweet Smell of Success: Following a severe brain injury, diagnostic tools are needed to determine who's in a vegetative state, how long someone might survive, and who's likely to regain consciousness.
The Un-COLA: Odds are "high" that seniors will see no cost of living adjustment in Social Security benefits for just the 4th time since 1975.
Take it to the Limit: Contribution limits toward 2021 HSA's have been released by the IRS, and increases are modest.
RAND Surprises: Reviewing a number of potential public options, researchers noted that higher-income earners might actually save the most, while pointing out there's no guarantee the uninsured rate would even drop.
Fail to Plan, Plan to Fail: 90% of writers miss their manuscript deadlines. You're late with your Christmas shopping. Less than 1/3rd of IT projects meet their deadlines. What the heck is going on?! It's called the Planning Fallacy, and we're all vulnerable.
Weekly Breeder: Easy, rider.