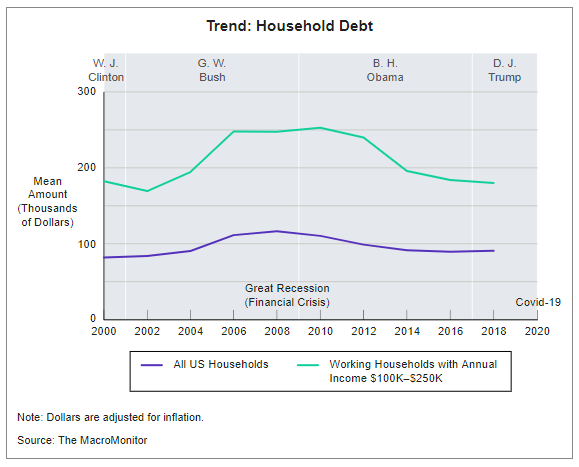 Long Term Care News - Week of September 14, 2020
Long Term Care News - Week of September 14, 2020
Posted By:
Stephen D. Forman
|
Categories:
Research & Reports, US Economy, Case Studies, Miscellaneous Op-Ed, Neuroscience and Human Behavior, LTC Awareness, Health & Underwriting
This week's news shares a joke and spares a link in the Weekly Breeder.  Now drop and give me 13%.  You'll be glad you did.  The benefits are enormous! 
Debt Forgiveness: "At first glance, the trend of household debt [see above] paints a fairly rosy picture of a successful post-financial crisis recovery," but this month's MacroMonitor Market Trends report adds that "ramifications of the country's most active consumers carrying a high debt load will be varied and long-lasting (broad an deep)."
Colorful Sayings: "You don't buy life insurance because you're going to die, but because those you love are going to live." If you enjoy "snackable" graphics like that one, feel free to download and share any of these others. 
9-1/2 Weeks? More like 8-1/2 months, that's how long Americans say it'll take them to feel comfortable with their financial status due to coronavirus. The pandemic has been a "wake-up call to re-evaluate their finances" for 2/3rds of Americans, many of whom are "more likely" to have such dinner table conversations.
Mr. Roboto: Would robocallers leave you alone if you didn't answer the phone? Researchers set-up 66,000 phone lines to find out...
Multiplier Effect: Losing about 13% of one's body weight was associated with a 40% lowered risk of developing type 2 diabetes, 25% less risk of sleep apnea, and 18% less risk of hypertension, according to a study of 550,000 Europeans over 8 years.
Weekly Breeder: "Do you ever wake up, kiss the person sleeping beside you and feel glad that you're alive? I just did and apparently will not be allowed on this airline again."