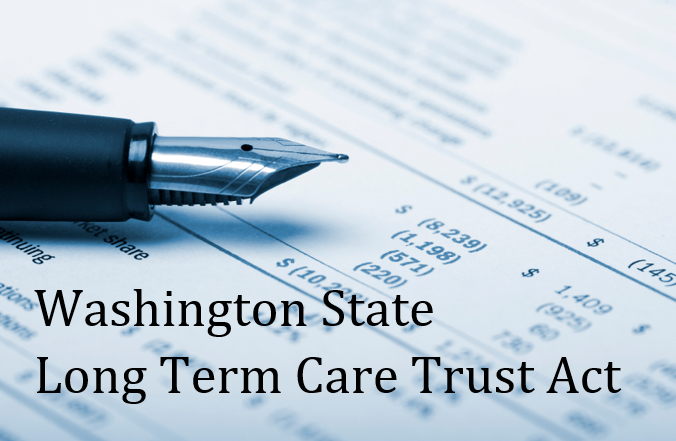 LTSS Trust Act Opt-Out Exemption
Long Term Care Trust Act: How Do You Opt-Out?
Posted By:
Stephen D. Forman, CLTC
|
Categories:
Government & Public Policy, Long Term Care Trust Act
In order to apply for a permanent exemption from the LTSS Trust Program—from both its indefinite payroll tax deduction ("premium assessment") and from eligibility for future benefits—an employee must attest that they have "purchased long-term care insurance ... before November 1st, 2021."

These "attestations" (ie. official requests for exemption from the Trust Program) must be submitted to the Employment Security Department for review only during the window that is open between October 1st, 2021 and December 31st, 2022.
What Does "Long Term Care Insurance" Mean?
According to rules proposed by the Employment Security Department (the agency responsible for processing opt-out requests), an employee who has long-term care insurance "as defined in RCW 48.83.020" and attests to this, may apply for an exemption.

This Revised Code of Washington defines "long term care insurance" to generally include the following:
Non-Tax-Qualified (NTQ) and Grandfathered LTC Insurance

Tax-Qualified (TQ) LTC Insurance

Partnernship LTC insurance

Group LTC Insurance (if Tax-Qualified)

Life insurance riders which meet 7702B(b) criteria


Life insurance policies and annuities which "provide directly or supplement" LTC insurance
Certain types of policy are excluded in the definition (eg medicare supplement; coverage for fewer than 12 months; life insurance which accelerates the death benefit for terminal illness or permanent confinement on a cash or indemnity basis with the option of a lump sum payment), however, the ulimate determination for your specific policy will rest with the Employment Security Department.
How Do I Apply for an Opt-Out?
Here is what we know so far. During the period between Oct 1st, 2021 - Dec 31st, 2022, you must provide the Employment Security Department with the following:

Age-verifying ID

Applications will be available on ESD's website or in another approved format TBD
The Department may verify your coverage
The Department may request additional information
If your exemption request is denied, your appeal will be heard before an administrative law judge

What Happens After I'm Approved?
If your request is approved, your exemption will take effect the following calendar quarter. You'll receive a letter from the ESD:

You must provide a copy to your current and all future employers
Your employers must maintain a copy of this letter
Should you fail to advise an employer that you are exempt from the payroll tax deduction, you are not entitled to a refund of any "premium deductions" prior to notification (which your employer may keep).
Do I Have to Do This Every Year?
Almost certainly not, for two reasons:
By law, the window for filing attestations is open for only 15 months, from October 1st, 2021 until December 31st, 2022. If LTC insurance policyholders were required to re-file each year, the law would have to be amended to re-open the window.


According to forecasting through 2027, ESD is budgeting a need for 14 staff members to process around 95,000 exemption requests

: these positions fall off the budget after the 2021-2023 biennium, suggesting they are only needed initially.
I'm Not an Employee: What Rules Apply to Me?
The following persons are not automatically included in the Trust Program, but may opt-in no later than January 1st, 2025 or within 3 years of first becoming self-employed (under procedures TBD):

Sole proprietor

Joint venturer or member of a partnership

Member of an LLC

Independent contractor

In business for oneself (including part-time business)

NB: "a corporate officer is an employee and not self-employed"
Persons who opt-in above may not withdraw from the Trust Program: taxes must continue to be paid until retirement.

How Will Wages and Hours be Calculated?
Wages include, but are not limited to:
Salary, or hourly wages

Commissions and bonuses

Cash value of stocks (at time of transfer) if part of comp package

Cash value of gifts and prizes

Cash value of goods or services given in place of money

Holiday pay

PTO, including vacation leave/sick leave

Separation pay, severance, wages in lieu of notice
Wages do not include:
Reimbursements

Employer-paid premiums for health insurance, life insurance, annuities, retirement, STD, LTD or death

Payment from an employee benefit which is non-standard compensation
On a quarterly basis, self-employed individuals who have elected to participate in the Trust Program must report to the Employment Security Dept the following:
Net income from self-employment, and
Gross wages self-paid from their business entity
To derive total hours worked, the Department proposes:
Dividing the self-employed person's wages by the state's minimum wage.

To verify wages and hours, ESD may require

"copies of tax returns, bank records, or any other documentation deemed necessary"
What if I'm both Employed (W-2) and Self-Employed (1099), or Switch Back & Forth?
This has been a known loophole in the Trust Program since LTCA brought this to the Legislature's attention in 2020. It's not been addressed yet, but we are hopeful it will be.

DISCLAIMER

This content is for informational purposes only. You should not construe any such information or other material as legal, tax, investment, financial or other advice. Hyperlinks that are provided as a service to our visitors should not be taken to imply any connection or endorsement between LTCA and those various organizations.
While LTCA makes every effort to ensure accuracy, this content is provided "as is" without express or implied warranty. Because this is a summary of a frequently-updated topic, the information will necessarily be incomplete; however, we are committed to accuracy, and encourage corrections for our review.

This content does not address the circumstances of any particular individual or entity. You alone assume the sole responsibility of evaluating the merits and risks associated with the use of any information or other content on the site before making any decisions based on such content.