LTCA's New List Ranks Top 20 Best Places to Retire Based on Cost of LTC Services
BELLEVUE, WASHINGTON (PRWEB) AUGUST 02, 2016 - Each year Bankrate.com ranks nearly 200 US cities from the best places to retire to the worst, based on an algorithm which combines cost of living and healthcare, year-round climate, tax and crime rates, and quality of life factors. But if a couple were to rely upon such a ranking in choosing where to retire, they would still lack a key metric: the cost of long-term care (LTC) services. For the first time, LTCA has completed this picture by filling in the missing data.
Stephen D. Forman, LTCA's senior vice president, commented on the findings, "The original rankings favored smaller cities and suburbs for their best-of-both-worlds lifestyle. But LTC costs can vary widely even within states, and will make up the largest potential cost in retirement."
LTCA matched cost of care data against the top 20 places to retire in the categories of nursing facility (semi-private room), alternate care facility (ie assisted living), and home health aide. The data were then used to re-rank the cities by the affordability of their extended care services.
Forman continued, "Some families may not understand that how they pay for care can impact which kind of LTC services they receive. While public financing leans toward institutional care, those with private insurance overwhelmingly receive care in the home and community. The sooner one plans, the more choices one has."
A licensed and credentialed LTC Insurance Specialist can design and recommend personalized plans based on the best places to retire. One can be reached at 1-800-742-9444 or by using this contact form.
The complete Bankrate.com list can be found here. Its data were drawn from the Agency for Healthcare Research and Quality, the Council for Community and Economic Research, the FBI, HealthView Services, Gallup-Healthways, the National Oceanic and Atmospheric Administration, the Tax Foundation, WalkScore.com and the Western States Arts Federation.
The complete Cost of Care data can be found here. Its data were drawn from CareScout, which contacted more than 43,000 providers to complete over 15,000 surveys of nursing homes, assisted living facilities, adult day health facilities and home health providers.
About LTCA:
With roots dating back to 1972, Long Term Care Associates, Inc. (LTCA) has entered its 5th decade focused exclusively in the LTC solutions marketplace. Headquartered in Bellevue, WA, the company is proud to serve over five million members of sponsoring organizations, and count the claim payments to its clientele in the tens of millions of dollars. LTCA is not affiliated with nor owned by either of the companies whose surveys are cited above.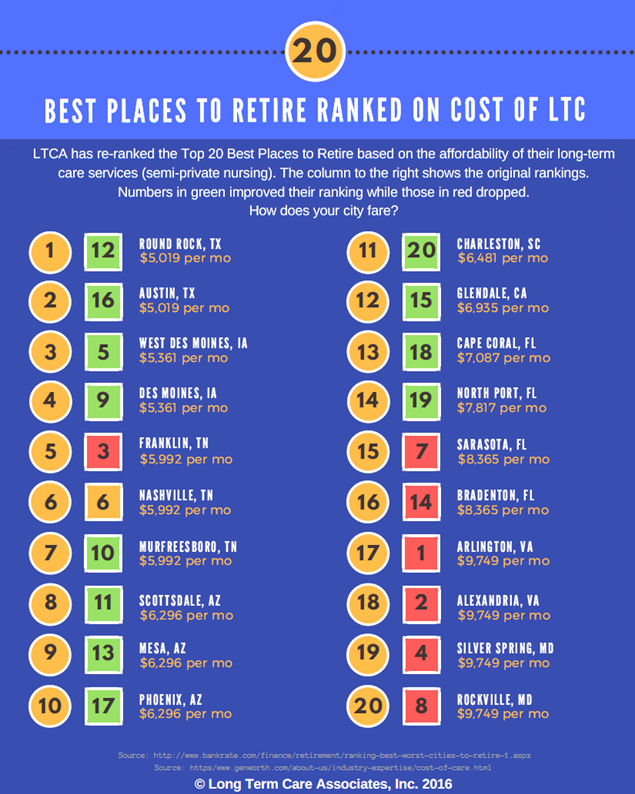 For Media Inquiries Contact:
Stephen D. Forman, CLTC
Senior Vice-President
Long Term Care Associates, Inc.
11900 NE 1st St., #115
Bellevue, WA 98005
425-462-9500 ext.205
steve@ltc-associates.com