"The Advisor's Guide to Long-Term Care"
Now in its second edition, "The Advisor's Guide to Long-Term Care" is the desktop reference used by the financial services industry. It's the book they turn to when they have a question about LTC insurance. First authored by Jeff Sadler, CLTC, the National Underwriter (a Summit Professional Networks Company, a division of ALM Media) approached Stephen D. Forman, CLTC to revise and update the new edition.
Although written primarily for insurance and financial professionals, one reviewer says, "...the book is a thoughtful roadmap through the thicket of rules, regulations and considerations that go into making sound recommendations for suitable products to meet the needs of consumers."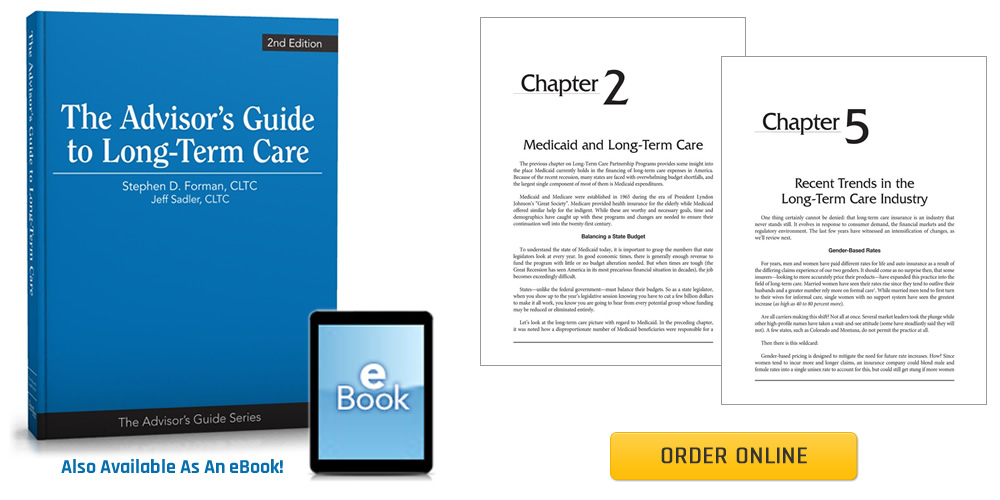 The Advisor's Guide has helped ensure that not only insurance professionals, but also elderlaw attorneys, financial advisors and CPA's are acquainted with the latest insights in this complex field. The truth is, any retirement professional whose practice intersects with seniors or pre-retirees owes it to their clients to familiarize themselves with:
The trends shaping the financing of long-term care

The methods used to determine who is most suitable for long-term care insurance, and

The pro's and con's of today's solutions
Readers will finish the 315-page book having learned the history of LTC insurance, the role of Medicare and Medicaid, the interaction of risk and underwriting, the reason behind rate increases and carrier exits, consumer protections and the NAIC regulatory system, the emergence of alternative products such as hybrids, how to design a suitable plan, and what training requirements must be met before one can solicit.
Since this is a revision, readers are also treated to the most-recent tax figures, claims statistics and industry sales numbers. Forman also shares his insight into some of the latest developments, such as the Jimmo Settlement, the Long Term Care Financing Collaborative, National Alzheimer's Project, and what effect the Affordable Care Act ("Obamacare") has had on LTCI.